As I slowly recover from weeks of debilitating laziness, I've decided to start embracing the wider world again. I'm clearing through the back-catalogue of un-read articles in my Feedly, I'm doing little projects, prepping for bigger ones, and dreaming of all sorts of things I can do with my time, and I'm enforcing much stricter and shorter TV hours for myself and E during the day. We need to do less watching and more doing.
So what have I been getting up to as I maintained lethargic radio silence here on the blog?
-Reading in the bathtub. This is an activity I highly recommend. (So do
many others
, incidentally) One night earlier in the week, E had a particularly trying day. So, the Husband came home early, took E out for a romp around the playground, and I soaked in a bubble bath, lit by candles, reading
Hitch 22
, and having an overly-filling dinner of curry and naan. Luxury at its finest.
-Watching
this video
. Having looked at some of Epipheo's other offerings, they're occasionally a bit dubious, but this one on the need to take time out to relax, concentrate, and get away from the internet was a good one.
-Dreaming about Mexican food. I love tacos, burritos, chili, nachos, fajitas, empenadas, salsa, guacamole, and pretty much anything else you can think of that would be served at a good Mexican restaurant (or a Taco Bell).
These recipes on Epicurious
have made me want to feast on giant burritos all week. Especially since our nearest
Mission Burrito
is in Reading...
-Going out to lunch. E and I had a fun trip to Nando's the other day. I was just in the mood for a meal out - no lunch in front of the TV. Plus, that chicken and grilled corn-on-the-cob are to die for.
-Making play-dough. I just finished this and I have two tubs of homemade play-dough sitting on our desk waiting for E to wake up. I checked out
this recipe
online, but you
can
make this stuff without cooking it. The key is just that you need a bit more salt and flour to keep it from sticking to everything it touches.
-Mustering the energy to get to
this project
. I ordered my fabric of choice from Spoonflower ages ago. Now it's just been sitting on my dining table waiting for me to go get some batting and a staple gun and just make the stupid cornice box for the kitchen window already!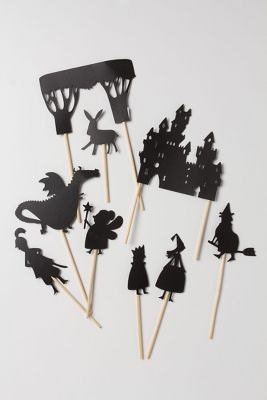 via, Etsy
-Making shadow puppets. Well, I didn't make the puppets themselves, but after playing with
this lovely set
that we were given by a friend (cheers, Natalie!), my mind has been going warp speed considering how best to make E a shadow puppet theatre to stage some fun bedtime stories.
So what about you? What has everyone else been up to while I've been away?